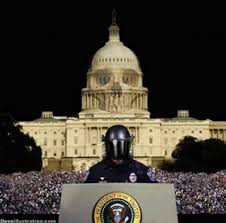 Global elites are rapidly moving to control, monitor and censor all social media, using the horrors of government. Now the governor of New York, Kathy Hochul, has announced an intensification of government surveillance on Americans speech and criticism.
Governor Hochul's administration is directing an additional $2.5 million to the New York State Police for expanding the FBI Joint Terrorism Task Force's (JTFF) reach, particularly in New York City, Albany, Buffalo, and Rochester. This move aims to bolster the State Police's presence across all investigative groups and areas of the JTTF.
Hochul announced a total of $75 million in funding, with $50 million allocated to local law enforcement and $25 million dedicated to security grants.
This heightened surveillance also involves "proactive contact with individuals expressing "hate speech online.""
"Also, we're very focused on the data we're collecting from surveillance efforts. What's being said on social media platforms," Hochul said during the press conference.
"And we have launched an effort to be able to counter some of the negativity and reach out to people when we see hate speech being spoken about on online platforms. Our media analysis, our social media analysis unit, has ramped up its monitoring of sites to catch incitement to violence; direct threats to others, and all this is in response to our desire, our strong commitment, to ensure that not only do New Yorkers be safe, but they also feel safe because personal security is about everything for them," she added.
Throughout history, several communist regimes have employed extensive surveillance systems. Notable examples include the Stasi in East Germany and the KGB in the Soviet Union. These organizations were infamous for their widespread networks of informants and advanced surveillance techniques, which they used to monitor virtually every aspect of citizens' lives. Ultimately, of course, this always leads to misery, mass executions, and/or genocide.