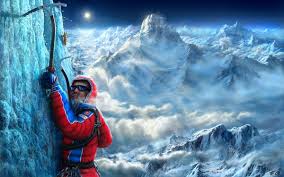 Published in Outside Bozeman, Fall 2009
Death in High Places
facebook twitter email Print This
Roots, Roger
No one seems to have ever tallied the deaths of mountaineers in Montana over the course of the state's history. A safe bet, however, is that far fewer climbers have died on mountains in the Treasure State than on Mount Rainier, Mount Hood, pitches in Yosemite National Park, or the more popular Colorado peaks. But when the smaller numbers of climbers in Montana ranges are considered, Montana's rate of fatalities may surpass many of North America's most notorious climbing regions.
Consider Mount Hood and Mount Rainier, upon each of which around 10,000 summit attempts are made annually. Roughly half of all those who climb these mountains are said to be successful, and about 100 people have died climbing each of them.
By contrast, only about a half-dozen people are known to have died on Montana's Granite Peak or its approach. But the much smaller amount of foot traffic on Granite Peak may give it a higher fatality rate than Rainier or Hood. Granite Peak is said to yield a success rate of only about 10 to 20 percent from around 1,000 climbers annually. Montana's Mount Cleveland is even more dangerous; only a few handfuls of climbers attempt it annually, but five climbers have died on it. Even Montana's Mount Ellis, an uninspiring 8,340-foot hill on the outskirts of Bozeman, has killed at least three people during winter avalanches in recent decades.
Because data on this topic is so hard to find, ranking Montana's deadliest climbs is an unscientific task. Not all the fatalities are even "climbing"-related—I have cavalierly heaped backcountry skiers and other recreationists in with climbers. (And one of the five is not even a mountain.) Nonetheless, mountaineers should pause to reflect on these tragedies and the deadly grip of Montana's high country.
Mount Cleveland: The Killer in Glacier National Park
At 10,466 feet, Mount Cleveland is the tallest mountain in Glacier National Park. It also boasts one of the highest vertical cliff faces in North America. One slip during a climb on the north face and a climber can plummet three-quarters of a mile to the valley floor. As far as anyone knows, no climber has ever fallen from this notorious cliff face. However, a snow-covered bowl on the west face was the scene of the worst mountain-climbing disaster in U.S. history (at that time) in 1969.
Five of the state's most talented young climbers—all in their late teens or early twenties—were crushed by a New Year's avalanche that covered them in as much as 25 feet of snow. Their disappearance sparked a mystery that was not solved for months.
Granite Peak: Montana's Highest Mountain
This isolated 12,799-foot rock heap in the Beartooth Range remained a rarely climbed mountain for 30 years after it was first conquered in 1923, and only 17 parties are known to have made the summit between 1923 and 1953. Some of the most famous mountaineers in America, including Norman Clyde, Robert Underhill, and Paul Petzoldt, were among those who climbed the mountain during this period.
The first known climber to die on Granite Peak was Ernest Bruffey, 38, of Havre. Bruffey disappeared during a solo climb on the mountain on August 16, 1959. Montana history buffs may recognize that date as the day of Montana's worst modern earthquake, an immense tremor that left 28 people dead across the region. Whether the quake contributed to Bruffey's death on Granite Peak has been debated for years, but the evidence now suggests the two events were unrelated. Bruffey's signature and last known words were recorded in a summit register at the top of the peak, so we know he successfully summited. Bruffey failed to return, however, and teams of intrepid searchers (including renowned local outdoorsman and Outside Bozeman contributor Joe Gutkoski) scanned the area for weeks after his disappearance. Search efforts were so strenuous that one searcher become exhausted from the climbing and died of a heart attack shortly after his return.
The mystery went unsolved until 1999, when a climber found a hiking boot with Bruffey's decayed foot inside it on the rocks below the north face of Granite Peak. Bozeman-area canoeist and writer Alan Kesselheim later found other remains belonging to Bruffey in the same area.
The condition of the decayed remains—and their position on top of some rocks rather than below them—suggested that Bruffey plummeted a thousand feet to his death rather than succumbed to rockfall caused by the 1959 earthquake. If so, Bruffey's fall was probably the longest vertical fall in Montana climbing history.
Eighteen years after Bruffey's death, on August 10, 1977, sixty-nine-year-old Alfred Paulson of Boise, Idaho was stricken with a fatal heart attack minutes after becoming the oldest person to climb Montana's highest mountain. As startling as Paulson's death was, it went almost unrecorded in the state's newspapers. Perhaps even more tragically, Paulson's record stood for only a few days. Five days later, a 70-year-old retired Pueblo, Colorado geologist named Dave Carter crested the mountain.
Then on September 25, 1994, a Butte climber named Tony Rich was killed not far from where Earnest Bruffey landed decades earlier. Rich died under a cascade of huge boulders while ascending Granite Peak by way of the snow-covered north face. His climbing partner, Fred Donich of Ennis, said that the two frantically tried to dig themselves into the snow in hopes that the rocks might skid over them. But Rich's helmeted head was crushed by a truck-sized boulder that rolled down from the summit above. An investigation followed, and ultimately three young climbers who were on the peak above Rich and Donich were charged with negligent endangerment relating to the incident. Evidence indicated the threesome had pushed tons of rocks and debris off the summit without knowing there were climbers below. Each defendant ultimately pled guilty to misdemeanor charges.
A number of climbers have died from falls on the lower approaches to the mountain as well. The steep approach between Mystic Lake and Froze-to-Death Plateau—an immense table of strewn boulders by which most Granite Peak climbers approach the mountain—has claimed at least two lives. In July 1987, a climber fell to his death in a chasm below Froze-to-Death Plateau after trying to catch up to several climbing partners. The victim, whose name was not published in newspaper accounts, apparently fell over the side of a cliff.
More recently, in August 2005, solo hiker Charles "Matt" Thomsen, 34, of Cody, Wyoming fell to his death on the same approach. Although Stillwater County authorities scoured the area with search dogs and airplanes, Thomsen's body was found by accident by a hiker weeks after the formal search was called off.
For every death on and around Granite Peak, there have been dozens of near-death mishaps. In 1970, a Californian named Frank Ashley was attempting to become the first person to summit all 50 state high points in a single year when he slid 200 feet down an ice chute on the east side of Granite and had to crawl for two days before he reached safety. At that time, only one mountaineer had conquered the summits of all 50 states, so Ashley's desired feat would have been a major North American climbing record. Ashley's misfortune opened the door for another climber, Mitch Michaud, who was hot on Ashley's heels, to make the record that year.
Several other climbers, including Jack Parsell, the cofounder of the national Highpointers Club and at least one solo climber, have broken bones during their Granite Peak adventures and had to be helicoptered off the saddle between Granite Peak and Tempest Mountain. My own brother Alex Roots almost died from a slide on Granite Peak in 2005, and his story was featured in the Summer 2007 issue of Outside Bozeman.
The Billings Rimrocks: Not a Mountain, but Just as Deadly
While not technically a "mountain," the Billings Rimrocks attract many climbers and rappellers to their sandstone cliff faces each year. These cliff walls extend for miles along the northern border of the city and vary in height from 50 to 200 feet. The Rimrocks provide a backdrop for Montana's largest urban environment, and may be the most accessible climbing venue in the state. Unfortunately, for as long as people have been drawn to the tops of the Rimrocks, they have been falling, driving, and jumping to their deaths from them.
More than a dozen persons have died falling from the Rims in the past three decades alone. Not all of these deaths are climbing-related; some are suicides, many are accidents, and at least one has been a homicide. Several automobiles have plummeted over the Rims as well.
In November 1973, a Billings climber named Gene Lampkins, 18, was climbing on the upper Rimrocks near the Logan airport when he looked down and saw a human body below. It was the body of Roger Cantwell, 15, who had been missing for days. From the serious injuries it was apparent that Cantwell had fallen from the top of the Rims above, near the Billings airport. The teen apparently struck several rock ledges after falling 150 feet, bounced off and landed on a large rock, and then rolled into some bushes. Officers could not determine whether Cantwell jumped, fell, or was pushed.
John Crooked Arm, a student at Eastern Montana College (now MSU-Billings), was found dead on February 20, 1977 by two children playing near Black Otter Trail west of the Boot Hill Cemetery. Crooked Arm was apparently solo climbing on the Rims when a tree limb he was clutching gave way. He was still holding the branch in one hand when he died.
On July 11, 1989, 62-year-old Jadie Berg, who was reportedly almost blind, was left alone in a drunken condition on the Rimrocks by a group of young Billings men who had taken his wallet and dropped him off on the top of the Rims. Berg plunged to his death. Six men were later charged with causing his death.
Climbing deaths on the Rims appear to be increasing in frequency. Stephen Wade Severe, 18, was climbing on the Rimrocks on May 13, 2003, when he was killed in a freak climbing accident. Another man, Steven Fraker, 52, was found dead below a 70-foot cliff near Laredo Place, west of Westfield Drive, in September 2006. Firefighters and ambulance medics were again summoned in the early morning hours of June 2, 2006 to recover the body of Jeffrey R. Logan, 22, of Billings, who fell to his death after reportedly drinking with friends. He fell approximately 45 feet, landing near where the Rimrocks meet 17th Street West.
It is also noteworthy that one of Montana's first major mountain bike races ended in tragedy on the Billings Rimrocks when one of its participants fell off during the race. Richard Blee, 59, fell 200 feet to his death in 1998. In the aftermath of the Richard Blee death, the race sponsor announced that he would not hold any future mountain bike races on the Billings Rimrocks.
Lone Mountain: The Quiet Giant
It is not surprising that the picturesque 11,166-foot backdrop to the Big Sky, Moonlight Basin, and Yellowstone Club ski resorts is also one of the deadliest alpine areas in the state. Hundreds have been injured on Lone Mountain's ski slopes over the years, and at least a half dozen others have met death on the mountain's backcountry approaches. World-class mountain climber David Stutzman, 31, who had summited Mount McKinley and led climbing expeditions in the Himalayas, died while employed on the Big Sky Ski Patrol on December 24, 1982. Stutzman was skiing on ungroomed pitches on Andesite Mountain, adjacent to Lone Mountain, when a tragic avalanche buried him in three feet of snow.
In November of 1999, a group of five energetic all-terrain skiers climbed up Lone Mountain to a chute above the triple chair of Big Sky. One of the climbers apparently triggered an avalanche while crossing a snowfield, taking the two lead hikers downhill some 250 feet. Their skis were still attached to their backpacks, encumbering their ability to escape the snowslide. Both men were dumped into a narrow terrain trap where snow piled up deeply over them. Although other people came to their aid quickly, one man died under more than six feet of snow.
Others have met death in the many valleys and canyons surrounding Lone Mountain. In March 2007, a Bozeman man, Ben Richards, 21, died under an avalanche in a Yellow Mountain gully known as the Titanic Chute. The avalanche reportedly washed him through 1,000 vertical feet before depositing four feet of snow on top of him. Richards' avalanche beacon was no help to him.
More recently, another skier, Tyler Stetson of Shelburne, Vermont, was crushed and killed by an avalanche on backcountry near Lone Mountain. Stetson died about a mile and a half from the Beehive Basin trailhead on a slope that had already been skied the same day by other backcountry skiers. A 500-foot-wide avalanche swept Stetson hundreds of feet down into a stand of trees where he was crushed against multiple tree trunks.
Perhaps the strangest death on Lone Peak occurred on Christmas Day 1996. Two Big Sky ski patrollers were dispatched to clear snow atop the mountain by detonating explosives along the ridgeline. One apparently triggered a fuse on a small explosive but then was not sure it had been ignited. She may have attempted to relight the fuse when the two-pound explosive detonated, sending her body flying into a snow bank approximately 100 yards away.
Mount Ellis: An Unlikely Runner-Up
From here, the tally of deadly mountains in the Treasure State lapses into various "ties." Almost every popular Montana peak has been the scene of some tragedy, including all of the "ski resort" mountains, Emigrant Peak, the Sphinx, and Glacier Park's Mount Siyeh. As ridiculous as it seems, however, meager Mount Ellis on the southeast outskirts of Bozeman makes the list due to three tragic avalanche deaths during the 1980s.
On February 7, 1986, two brothers from Bozeman, David Orr, 23, and Spencer Orr, 27, were cross-country skiing beneath Mount Ellis when an immense cascade of snow rolled over them and washed them down the mountainside. Neither body was recovered until June despite diligent efforts by dozens of searchers.
A year later, on January 31, 1987, two men were cross-country skiing with their three dogs about two miles north of where the Orr brothers had been killed the year before. An avalanche approximately 150 feet wide broke free on a small slope created by an old landslide. One skier was standing at the bottom of the slope and was completely buried. The second skier was close to the crown line when the avalanche began and was only buried to his calves. Though the slope comprised only 60 feet of vertical drop, the avalanche was large enough to bury the victim under two feet of snow and prevent a quick rescue. When searchers finally found him, he had been buried for several hours.