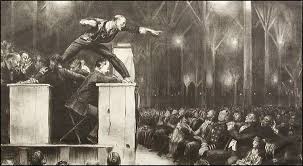 Today a person is more free the moment he walks off a typical university campus. Modern universities push a constant stream of government-supporting propaganda, socialism, and censorship of anti-government thought.
Now American confidence in higher education has sunk to a new low, according to a new Gallup poll. Just 36% of adults expressed high levels of confidence in higher ed.
And this confidence has been plummeting, as universities have increased their pro-government, socialist extremism. Jus 5 years ago in 2018, the number was 48%. And in 2015 the comparable level was 57%. Confidence is plummeting among all subgroups of the population.
Americans' Confidence In Higher Education Sinks To A New Low (forbes.com)