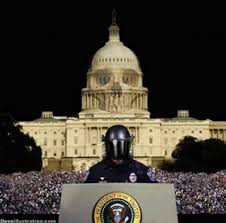 A new (or newly discovered) CIA operation is secretly conducting warrantless surveillance domestically in the US.. U.S. Senators Ron Wyden and Martin Heinrich alleged in a letter to intelligence officials that the CIA may be violating its charter.
"Officially, the CIA and National Security Agency (NSA) have a foreign surveillance mission and domestic spying is prohibited by the CIA's 1947 charter."
"But in 2013, a programme of data collection using extensive internet and phone surveillance by American intelligence was disclosed to the public by Edward Snowden, a CIA contractor-turned whistle-blower."
"A Washington Post analysis of the Snowden leak found some 90% of those being monitored were ordinary Americans "caught in a net the National Security Agency had cast for somebody else".
"Top officials had until then denied – and even lied under oath to Congress – that they were knowingly collecting such data." "The programme, known as Prism, was later ruled unlawful by a US court."
"Mr Wyden, of Oregon, and Mr Heinrich, of New Mexico, said the secret program is "entirely outside the statutory framework that Congress and the public believe govern this collection." See here.