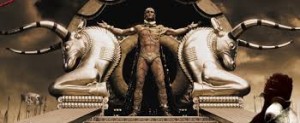 by Roger Roots
All of us know that government officials love to pad their government temples of power with gleaming marble, oak and precious metals. I remember the first time I ever argued a case at the U.S. 8th Circuit Court of Appeals in St. Louis. Upon first seeing the government building, I almost vomited on the sidewalk. The audacity and arrogance on display turned my stomach.
Now we learn that the Environmental Protection Agency (EPA) has (again) spent extravagantly on "office" furniture. Over 90 million dollars; roughly $6,000 per EPA employee. See here.
The EPA doesn't buy office furniture at Office Depot or Staples. They buy the very highest-end furniture available from the catalog at Herman Miller, Inc. Here is the link to that furniture supplier for those interested in seeing what a thousand-dollar office chair looks like.