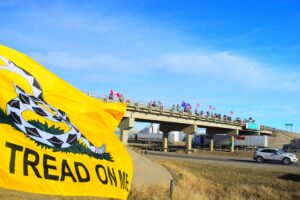 US government regulations are crippling the ability of American industries to respond to supply shortages. There is a major shortage of truck drivers in the US; but new regulations will make it even HARDER for truck drivers to be obtain commercial driver licenses (CDLs).
Agweb.com reports that starting today, on February 7, 2022, new truck drivers must go through a GOVERNMENT-APPROVED training schools (costing thousands of dollars each) and submit to expansive government data-entry programs.
CDL-holding truckers are limited in the number of hours they can drive consecutively. Many observers believe this requirement is forcing truckers to drive faster and less safely on icy roads on some routes.
During the Obama Administration, Obama signed MAP21 ("Moving Ahead for Progress in the 21st Century Act"), a plan to nudge America closer to mass government-controlled public transportation. In 2021, the states lost close to 100,000 class A CDL drivers. Under Trump, 1,000's of trucking companies went out of business.
"If a farmer who is located in Ellendale, N.D., wants to drive their one ton pick-up with a flat bed trailer to pick up a new tractor for their farm in Omaha, Neb., they would be subject to regulations because they are outside the 150 miles from their operation and all federal transportation regulations would then apply, including needing a CDL to go get the new tractor in Nebraska," says Krapu.
[photo courtesy of Debbie Westlake]