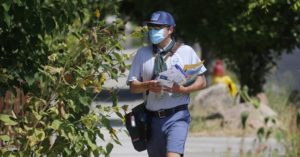 UPDATE: THE USPS IS RETALIATING AGAINST WHISTLBLOWER WHO EXPOSED ELECTION FRAUD
"According to Richard Hopkins, a carrier in Erie, Pennsylvania, his supervisors and others above him were ordering carriers to backdate ballots that were received after Election Day. Once Hopkins' bosses pieced together that he was the whistleblower, he was allegedly relieved of duty."
PROJECT VERITAS HAS NOW PRODUCED 5 UNDERCOVER VIDEOS OF USPS ELECTION FRAUD WHISTLEBLOWERS. "MAINSTREAM" MEDIA IGNORES
"Project Veritas released their first video of a United States Postal Service worker in Traverse City, Michigan, coming forward to expose their supervisor, Johnathan Clarke, potentially engaging in voter fraud. The second video released Thursday afternoon allegedly shows a USPS worker in Las Vegas, Nevada, talking about handing over a "handful" of ballots to an undercover journalist. The blank ballots were collected because they were allegedly sent to the wrong address. The third video was Hopkins' original report. Video number four was of a USPS whistleblower in Coraopolis, Pennsylvania that claimed supervisors and other higher-ups are ordering carriers to backdate ballots that were received after Election Day."
TEXAS CHARGES SOCIAL WORKER WITH 134 FELONY COUNTS OF ELECTION FRAUD
Three days after election day 2020, "Attorney General Ken Paxton . . . announced that his Election Fraud Unit assisted the Limestone County Sheriff and District Attorney in charging Kelly Reagan Brunner, a social worker in the Mexia State Supported Living Center (SSLC), with 134 felony counts of purportedly acting as an agent and of election fraud," the state said in a statement. "State Supported Living Centers serve people with intellectual and developmental disabilities. Brunner submitted voter registration applications for 67 residents without their signature or effective consent, while purporting to act as their agent."
TWO ELECTIONS IN MICHIGAN HAVE NOW BEEN REVERSED WHEN HAND COUNTS SHOWED COMPUTER COUNTS TO BE FALSE
Already it has been revealed that computer software used in Michigan elections (and apparently in many other states) either counted certain Democrat votes twice or counted certain Republican votes as Democratic votes. Two Michigan candidates who were initially told they had lost have now been proclaimed winners.
IT APPEARS THAT MANY DEAD PEOPLE VOTED IN 2020
The New York Post has documented that a number of votes were "cast" in New York by individuals known to be deceased. At least one Democrat has been arrested for attempting to vote for both himself and his deceased mother. "I believe this is just the tip of the iceberg," said one observer.
Just prior to election day, Florida officials identified a fraud scheme seeking to obtain ballots for around 50 deceased voters.
Meanwhile there are mainstream "news" headlines blaring such claims as "DEBUNKED: 'DEAD PEOPLE' DID NOT VOTE IN THE US ELECTION AS VIRAL FACEBOOK POST CLAIMS" and "No evidence of dead people causing widespread voter fraud."