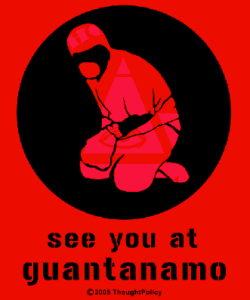 Who would have predicted 20 years ago that the United States would erect a prison system to hold inmates for life without charges, due process or evidence?
The U.S. concentration camp at Guantanamo is approaching its 15th anniversary, and dozens of inmates continue to be held without charge. The Center for Constitutional Rights is reporting that some of the Center's Guantanamo clients have been on hunger strikes since 2007 (!) and have been forcibly fed by feeding tubes for more than eight (!) years.
These inmates are reportedly barely recognizable, having lost substantial body weight. Moreover the hunger-striking inmates are suffering memory loss, dementia, intense back pain and loss of sensation in hands and feet.
The Center has filed a motion seeking a court order granting habeas relief and compelling the government to immediately release one of the Center's clients.