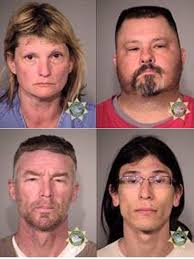 Sean Anderson, one of the last four occupiers of the Malheur Wildlife Refuge in eastern Oregon in 2016, was recently riddled with bullets by multiple law enforcement agencies after a traffic stop. Government agents are spinning the story as a confrontation with the militia activist, but have thus far refused to release any dashcam or bodycam imagery of the incident.
Anderson has reportedly survived the shooting but is hospitalized and blind from multiple rounds in the face. FBI agents have reportedly threatened Anderson's wife to keep Anderson's location secret from the public.
Anderson became famous for his role in the 2016 citizens occupation of the Refuge near Burns, Oregon. After the roadblock killing of LaVoy Finicum by Oregon State Police and FBI agents on January 26, 2016, almost every occupier fled the Refuge or surrendered. Anderson and his wife Sandy, along with Jeff Banta and David Fry, maintained their protest until the final (41st) day even as they were surrounded by hundreds of state and federal agents.
Both Andersons faced numerous federal charges and were preparing to go to trial in February 2017 when federal prosecutors offered them misdemeanor plea agreements. (Banta and Fry were acquitted of all charges along with Ammon and Ryan Bundy, Shawna Cox, Neil Wampler and Ken Medenbach, in October 2016.)
Sean Anderson has maintained a public profile as a community activist since the Bundy case. Last week, he spoke at an Idaho event aimed at informing the public about the government's coronavirus disinformation.
Now Idaho State Police claim Anderson "led multiple law enforcement agencies on a high-speed pursuit in Lewis County, Idaho (in the southern panhandle near Washington State).
Officials claim a Lewis County deputy attempted to pull Anderson over on Highway 12 at about 2:45 a.m. Saturday for "an apparent equipment violation." They claim Anderson led them on an hour-long chase which ended in Ferndiand, Idaho County where they say "shots were fired."
Idaho State Police officials declined to answer reporters' questions about how many shots were fired or who shot first. It appears the agency is seeking to spin the encounter as a gun battle with Anderson. But the incident must have been filmed by multiple dash and body cameras, and the agency's refusal to release any footage belies the government narrative.
And now there are reports that the FBI has threatened and intimidated Sandy Anderson into keeping Sean's hospital location a secret from the public. Government agents are desperately seeking to keep a lid on the story, and even their official press release has declined even to name Anderson as the person involved.
STAY TUNED!