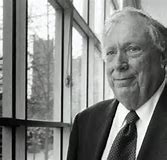 U.S. 9th Circuit judge Stephen Reinhardt, known as the "Liberal Lion" of the 9th Circuit, died Thursday while visiting a dermatologist.
Reinhardt was "liberal" in the old, anti-police-state, sense. He fought to save habeas corpus from the police state. He fought for criminal defendants who were given no chance and little due process.
If you were wrongly convicted of any crime in a western federal courthouse, and you were lucky enough to draw Stephen Reinhardt as one of your three 9th Circuit judges in your appeal, you had a chance of overturning your conviction.
R.I.P. Stephen Reinhardt, March 27, 1931 – March 30, 2018.