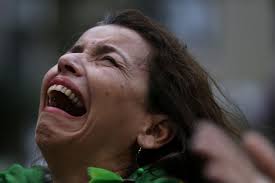 Ever wonder what it was like to be a Jew in Nazi Germany?
Melissa and Aaron Klein–described as "devout evangelical Christians who own a mom-and-pop bakery"–are beginning to find out; in Oregon!
In July, they were ordered to pay more than $135,000 in damages to a lesbian couple after they refused to bake their wedding cake. The Kleins objected because of their religious beliefs.
The judgment was awarded to the lesbians for "emotional suffering."
(Of course, every person has a right to marry the person or persons or things they love. Government has no right to interfere, sanction, or unsanction such personal choices. That is not the issue).
Just a few weeks before Christmas, Oregon Labor Commissioner Brad Avakian wiped out the Klein family's bank accounts – taking nearly $7,000. See here.