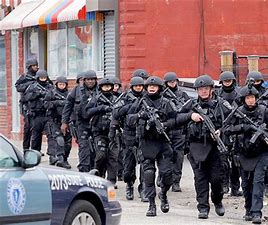 On March 26, 2014, Sgt. Wayne Jenkins, the leader of Baltimore's disgraced Gun Trace Task Force, called fellow Sgt. Keith Gladstone, saying he had run over an arrestee. Jenkins asked Gladstone to bring him a toy gun to plant on the injured "arrestee." Many cops carry "throwdown" weapons in their patrol cars for just such occasions. But Jenkins was out of such plantable objects.
Sgt. Gladstone and a detective named Carmine Vignola drove to the home of another Baltimore cop, Robert Hankard, who volunteered a BB gun for planting on the innocent victim (Demetric Simon). The pair then rushed to the scene where Gladstone planted the fake gun on Simon.
Later, all four cops lied, falsely testified and drafted false police reports to cover up their lawless acts. Simon spent 317 days in jail on fraudulent weapons charges.
But years later the case unraveled, and by 2018 all 4 officers were testifying against each other in federal court proceedings. Gladstone is currently awaiting sentencing after pleading guilty to planting the BB gun at the scene. He faces up to 10 years in prison. Jenkins was sentenced in 2018 to 25 years in prison. Vignola received an 18-month prison sentence last year after pleading guilty to lying to a grand jury.
Demetric Simon is suing the cops for $17 million.
Now Detective Hankard has been convicted by a jury of falsely testifying to a federal grand jury in a federal investigation and falsifying an application for a search warrant and subsequent police report related to the search of an apartment.
The case has revealed perjury by Baltimore cops in OTHER cases. And it has been revealed that many Baltimore cops are paid more than public records indicate.