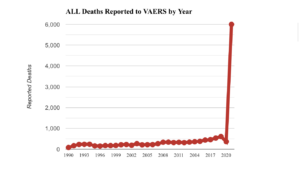 While the US government provides mountains of information and claims which promote COVID-19 mRNA "vaccines," the CDC's Vaccine Adverse Effects Record System(VAERS) database is THE ONLY government source of data regarding injuries from vaccines. Prior to 2020, the veracity, integrity and validity of the VAERS database was never questioned or challenged on a large scale.
But the database now shows that Pfizer, Moderna, J&J and Astozenica COVID-19 'vaccines' are associated with far higher levels of harm than earlier vaccines.
Government trusters and the CDC are now quick to call the CDC database into question. Users of the CDC website must check two boxes saying they understand limitations to the data before accessing it. Pro-government extremists now routinely brush aside questions about the vaccines' harmfulness by insisting that VAERS reports are unverified and unproven.
But crusading reporter Alex Berenson says that internal hospital data now confirm the huge increase in harmful side effects from the COVID-19 vaccines. "At many hospitals, the number of patients reported to have post-vaccine injuries rose fivefold or more after Covid vaccines were introduced in December 2020, medical records databases show."
"Several people with access to different databases provided the figures, on the condition that they remain anonymous, as the databases are proprietary and confidential. All the databases showed a similar increase, ranging from four-fold to more than 10-fold."
The rise PARALLELS the massive increase in vaccine injuries and deaths reported to VAERS – the federal Vaccine Adverse Events Reporting System – in 2021. Over 740,000 VAERS reports were submitted last year, compared to 50,000 in 2020. Of the 2021 reports, 700,000 were Covid related.