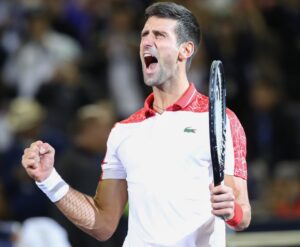 The Australian government has deported and banned the world's greatest tennis player, Novak Djokovic, over Djokovic's decision to not be injected with alleged COVID-19 vaccines.
Djokovic, from Serbia, is the #1 ranked tennis player on earth. He has won the Australian Open NINE TIMES and has 20 Grand Slam singles titles, a men's record he shares with Roger Federer and Rafael Nadal.
The Aussie government conceded that Djokovic qualified as an athlete at the Australian Open due to natural immunity. But the Australian government banned him because admitting him might undermine popular faith in the COVID vaxx jabs.
Now ticket refunds are OUTNUMBERING ticket sales at the Australian Open, according to Newsweek.
Just a couple players protested the deportation of the world's top player. The fally-vaxxed Nadal–tied with Djokovic for most major world titles–now stands to win the tournament and 'eclipse' Djokovic in world record books.
Also, four fully-vaxxed players, Nikoloz Basilashvili, Dalila Jakupovic, Nick Kyrgios, and Bernard Tomic, were forced to quit the Open due to heart and breathing problems. Jakupoci actually collapsed on the court.
And just this morning, Jan. 17, a ball boy collapsed near the courts with apparent heart and breathing trouble.