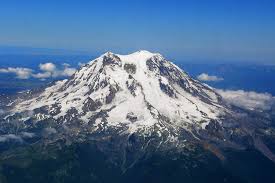 MOUNT RAINIER, the highest mountain in the State of Washington and the most glacier-covered mountain in the contiguous U.S., is a mecca for mountaineers in the Pacific Northwest.
But government regulations are higher than the snows on the mountain. Those seeking to summit the peak must obtain TWO separate permits: a "wilderness permit," and a "climbing permit." Additionally they must pay a "Climbing Cost Recovery Fee."
A permit is generally issued for groups of two or more who disclose sufficient information about themselves and their plans. Teams must generally disclose the exact route they intend to use on the mountain as well as a description of their gear.
Climbing solo is prohibited without an actual letter from an NPS official. One must APPLY for the permit by pitching one's climbing history and abilities. (And Rainier is by no means an extreme or technical climb.)
GOVERNMENT REGULATIONS PUT CLIMBERS AT RISK
This year, the NPS has limited commercial guide companies that normally operate on the mountain (citing the coronavirus panic). Consequently, there is less placement of ladders and safety ropes across dangerous crevasses.
The permit requirements and prohibitions on solo climbing have likely put hundreds of climbers at risk. Many have attempted to sneak up the mountain on dangerous routes or by dark of night to avoid government detection.
IT IS NOW ILLEGAL TO PIONEER NEW OR UNUSUAL ROUTES IN MOST CASES
Overregulation on mountains such as Rainier make it illegal to pioneer new or unusual routes in many circumstances. Prior generations of climbing pioneers were REWARDED by presidents, kings and prime ministers. Mallory was part of a Royal British expedition; Hillary was knighted by Queen Elizabeth II for his Everest success. But modern governments seek near-total control; and control means exploration is unlawful.
Charlie Bell, who solo-pioneered a risky climb of Rainier's West Rib in 1961, found it "paradoxical that Bonatti got a medal for his Matterhorn solo and I paid a $50 fine for my Rainier solo."