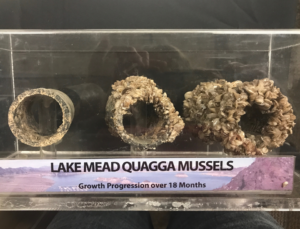 Montana's voters, like those almost everywhere, have repeatedly voted for Republican politicians who promised "limited government." The Montana legislature has been controlled by these "limited government Republicans" for more than a quarter century. Yet the legislature has grown Montana's government faster than the rate of inflation for decades.
Indeed, Montana's legislature has grown government faster than legislatures of almost every neighboring state.
In 2016, State wildlife officials proclaimed they had discovered mussel larvae (but not any mussels) in the Canyon Ferry Lake (near Helena, the State Capitol) and in the Tiber Reservoir near the Canadian border. Government wildlife officials filled the papers and airwaves with claims that invasive mussels brought in from other states would soon cause hundreds of millions of dollars of damage to Montana's infrastructure.
The Montana legislature created yet another government program, which positioned dozens of government agents on Montana's highways and required every traveler with a boat trailer to pull into inspection stations to be scrutinized by the government.
After three years,over $15 million dollars, and more than 100,000 travelers stopped, State officials say the program has been a complete success! Not a single Montana waterway has been found to contain the evil aquatic invasive mussels.
(Those three samples of 'larvae' supposedly found in two lakes in 2016 are increasingly suspected of being planted; as government wildlife agencies are known to plant rare species in places in order to spur government "protection" over such places.)
Canyon Ferry Lake has been sampled thousands of times since without a single mussel found.
"We're going to be sampling the heck out of it, probably forever, just because we saw something funky there," [Montana Fish, Wildlife & Parks spokesperson] Woolf said. "We had mussel-sniffing dogs out there a couple weeks ago."