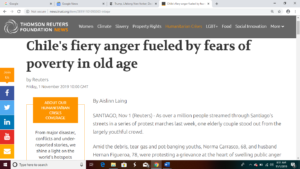 "News" story ignores the public's anger at government climate regulations
Reuters news agency has been repeatedly exposed as funded in part by the CIA. See here and here.
Now the pro-government news bureau is out with a story attempting to explain the recent riots in Chile—which saw a million Chileans take to the streets to protest transportation cost increases caused by the government's "climate change" policies—as being "fueled by fears of poverty in old age."
Chile's privatized pension system has long been a sore point for socialists and pro-government extremists in the world's journalism establishment. Chile privatized its social security program decades ago, allowing workers to choose where to invest ten percent of their earnings. The experiment was a renowned success and catapulted Chilean living standards to the highest in South America. Unlike the U.S. Social Security system—which incentivizes American workers to work less and save less, and which has made the U.S. at least 3 percent poorer than it would be otherwise, according to Harvard research—the Chilean system incentivizes work, saving and investment.
Government trusters worldwide have long despised the Chilean pension system, which has been copied and adopted in several other nations.
So now, in the wake of the recent Chilean riots, the government-supporting (and supported) Reuters news network publishes the headline "Chile's fiery anger fueled by fears of poverty in old age."
Reuters' evidence: "one elderly couple stood out from the largely youthful crowd and complained that Chile's "pension system that has left many retired workers with scarce funds to get by." The "plight of pensioners," according to Reuters, "is key to understanding the potent violence that has seen buildings and buses burned, shut down the Santiago metro system, and forced President Sebastian Pinera to axe a third of his cabinet and cancel two major global summits." There are a few quotes and a reference to "one viral video" in which "a young man wearing a hood and gas mask took the hands of an elderly woman to perform an impromptu dance."
Even the Reuters story reluctantly admits that the pension privatization of the 1980s yielded bountiful prosperity: "The money that poured into the [pension] coffers – at present $216 billion, equivalent to 80% of gross domestic product – helped fuel an economic boom that saw a small elite flourish and gleaming glass and mirror towers come to dominate the skyline of Santiago."