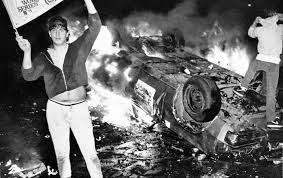 Thousands of French citizens have taken to the streets wearing high-visibility yellow jackets to protest the government's burdensome fuel taxes. Diesel and gasoline taxes have increased by more than 20 percent in recent months and the government expects to further increase tax burdens on the population.
Just as with the government of Australia, the government of France has imposed a variety of oppressive laws supposedly designed to empower government to stem manmade-global-warming-by-CO2.
Polls show 84 % of French people support the "yellow vest" protest movement.
78 % say the "climate change" reforms of President Macron will accomplish nothing at all toward the environment.
75% say the fuel tax harms the poor the most.
Hundreds have been arrested. Two have died during the past two weeks of traffic-stopping protests.
Source: Odoxa-Dentsu Consulting for Le Figaro daily and France Info radio