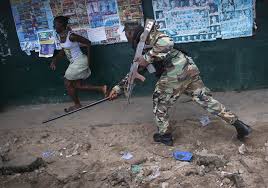 A terrifying spectacle of hate has become front-page news in the Bozeman Daily Chronicle and the Billings Gazette.
For the past 2 days, both papers have focused on a story of some fun-loving (but foolish) Canadian tourists who allegedly strayed off the government boardwalk at Yellowstone National Park's Prismatic Spring geothermal area. The young men apparently sought a few moments of excitement, and defied National Park Service signs warning visitors not to walk out on the surface of the hot bubbly mud. See here, and here.
Hundreds, if not thousands of people have done the same thing.
But the Canadians posted video on social media. See here.
Chronicle and Gazette writers have led a torrent of hatred against the hapless young men, detailing how the Canadians violated various rules of the Park Service. "Yellowstone park rules explicitly prohibit tourists from traveling off boardwalks or designated trails in hydrothermal areas," the Chronicle wrote.
Astoundingly, the Chronicle even reported the NPS's blatantly unconstitutional anti-filming regulation–WITHOUT SO MUCH AS MENTIONING THE POSSIBILITY THAT THE REGULATION MAY VIOLATE THE FIRST AMENDMENT.
Additionally, park policy prohibits filming from the social trails above Grand Prismatic Spring.

The park requires film permits for commercial, nonprofit, documentary, promotional or educational filming, including entertainment broadcasts and some student projects.

Rachel Cudmore, who works in the film office at Yellowstone National Park, told the Chronicle in an email that no permits were on file for High On Life or any of the four men associated with the project. She added that the project "would have required a commercial film permit."

"Typically, anyone that is filming or photographing for reasons other than personal enjoyment should contact the Film Office to inquire about a special use permit for these activities," Cudmore said.
The Chronicle even expressed astonishment that
Filming without a permit was not one of the charges listed in the criminal complaint filed Tuesday, though Reid said it was possible that charge could arise later on.

Cudmore said filming without a permit was a misdemeanor crime with a maximum prison term of six months and a maximum fine of $5,000.