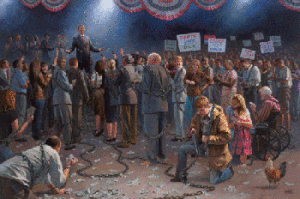 One of the most dangerous things one can do in any society is lead a movement that threatens the fundamental dominance of a king, a reigning politician, or prevailing government.
During the 2008 and 2012 presidential campaigns, the Ron Paul movement was just such a threat to the sitting establishment.
Last year, the U.S. Justice Department levied a wide variety of political-corruption charges against Ron Paul's 2012 campaign staff, accusing them of buying off an Iowa Republican Official.
Most of the charges–based on little or no evidence–evaporated and were dismissed before trial.
But a trial was held in Iowa last week.
Jesse Benton and James Tate were fully acquitted. A campaign organizer named Dimitri Kesari, however, was convicted of charges relating to hiring an Iowa Republican official in order to win the official's endorsement.
See the Washington Post story here.