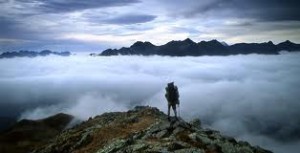 Last week, U.S. President Barack Obama was on an Alaska propaganda trip, designed to promote government's "climate-change" socialism agenda. Give government vastly greater power, says Obama (and hundreds of other U.S. government officials) or everyone is doomed.
To illustrate the government's hysterical claims, Obama spoke at Alaska's Exit Glacier, claiming the Glacier is melting rapidly due to manmade CO2 in the atmosphere. Tellingly, Obama claimed the melting of the Exit Glacier is "as good a signpost of Climate Change as anything."
The problem is that the glacier has been receding since 1815, according to the National Park Service. See here.
And there are other Alaska glaciers that have been growing in recent years! The Hubbard Glacier, the largest calving glacier on the North American Continent (25 percent larger than Rhode Island), has been growing steadily. See here.