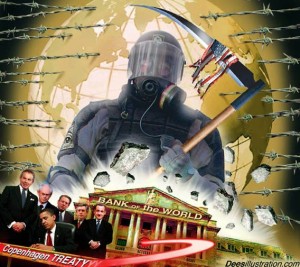 We often hear of "American exceptionalism." America has been—since its inception—the world's flagship of freedom, property rights, invention and capitalism. Hard work and ingenuity has fueled thousands of economic miracles, and produced a nation of unparalleled abundance and prosperity. The poor in modern America live better than the kings and queens of Europe a hundred years ago.
But recent economic data reveals a rapidly changing country. "In the 14 years between 1998 and 2012," writes veteran Washington insider Terence P. Jeffrey in a recent column, "government spending in the U.S. more than doubled in current year dollars." Analyzing data from the White House Office of Management and Budget and the Census Bureau, Jeffrey revealed the following startling facts from 2012:
NET COMBINED LOCAL, STATE AND FEDERAL SPENDING PER PERSON: $49,813
MEDIAN HOUSEHOLD INCOME: $51,017
MEDIAN INCOME OF FULL-TIME YEAR-ROUND WORKERS: $42,799
Did you catch that? Government spending per person is now substantially higher than the median income of full-time American workers. Obviously this means that a mathematical majority of Americans are now "on the dole" (at least to some extent) and that a shrinking sector of the population ("the rich" as politicians might call them) are paying much more than their shares. In fact, America has increasingly become like most of the countries of the earth. Half of the population lives off of the other half—through government.
Government licensing obstacles now keep most of the poor from rising. It takes 1500 hours of government-approved "training" just to get a barber license in Nebraska. Merely getting a CDL truck-driving license now requires a seven- or eight-step process, annual inspections, medical checkups, etc., etc., etc.
Meanwhile those in government have hit the lottery. Seven of the richest ten counties in the United States are the counties surrounding Washington, D.C. where overpaid bureaucrats live in large numbers. A federal employee is now statistically more likely to die than to quit. The pay and benefits for government workers have become so high that hundreds now apply for most entry-level federal job openings. If you visit your local bookstore you will find multiple books on "How to get a federal job," "Applying for a Federal Job," etc.
The same phenomenon can be seen in the government employee parking lots of Lincoln, Pierre, Cheyenne or Helena. Hummers. BMWs. Mercedes. This while many Americans hold their pickups together with duct tape and baling wire.
In just a short while, America has been transformed into a society like most others on earth. Is there anyone who doubts that politicians will soon seek to make us bow before government employees? And—trust me—not long after we get used to bowing, we will be made to kneel.